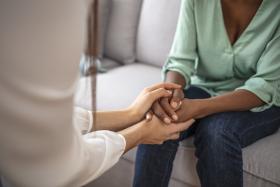 Mitigation of Acute Risk of Suicidal Acts
Activity description
People at risk of suicide are often seen in health care settings, and health care organizations have a unique opportunity to identify and facilitate suicide prevention. Although there are long-standing clinical best practices, gaps still exist. Suicide Risk Formulation (SRF) is a process by which a clinician forms a judgment about a patient's foreseeable risk of suicidal behavior based on data collected from a Suicide Risk Assessment (SRA). Risk formulation may indicate that enhanced interventions and increased support may be needed. Treatment should focus on reducing the immediate suicide risk and exploring any underlying mental-health and/or substance-use disorder. This activity is designed to support health care professionals through risk-mitigation situations by providing an advanced continuing education opportunity to improve practice, skills and knowledge.
Provided by
This activity is provided by Optum Health Education and AbleTo.
Commercial support
No commercial support was received for this activity.
Required hardware/software
Please ensure you are using the web-browser Chrome and disable any pop-up blocking software. Click here for information on how to enable pop-ups.
Target Audience
This activity is designed to meet the educational needs of nurses, nurse practitioners, psychologists, social workers and other HCPs who have an interest in learning about Standards of Care when working with patients at risk of suicide.
Learning Objectives
At the end of this activity, participants should be able to:
Describe acute risk factors for suicide. 
List common contributory stressors that motivate suicidal behaviors. 
Discuss why protective factors for suicide do not always provide protection.
Presenter
Alan (Lanny) Berman, PhD
Adjunct Professor of Psychiatry and Behavioral Sciences, Johns Hopkins University School of Medicine 
Private Practice limited to Psychological and Forensic Consultation 
Former Executive Director of the American Association of Suicidology


About the presenter
Dr. Berman is Adjunct Professor of Psychiatry and Behavioral Sciences at the Johns Hopkins University School of Medicine.  A Diplomate in Clinical Psychology (American Board of Professional Psychology) and a Fellow of the American Psychological Association, Dr. Berman maintains a part-time private practice of psychological and forensic consultation in Chevy Chase, MD.
Dr. Berman holds a B.A. degree from the Johns Hopkins University and a Ph.D. from the Catholic University of America.  From 1969 to 1991 he taught at the American University (AU) where he attained the rank of tenured full professor.  Between 1991 and 2014 Dr. Berman was a Distinguished Adjunct Professor at AU.  In 1991, he was named Director of the newly established National Center for the Study and Prevention of Suicide at the Washington School of Psychiatry, a position he held until accepting his Executive Director position with the AAS in 1995. After serving 20 years as the Executive Director of the American Association of Suicidology (AAS), he retired in July, 2014.
Dr. Berman is a Past-President of the AAS (1984-1985), their 1982 Shneidman Award recipient (for Outstanding Contributions in Research in Suicidology), and the 2006 recipient of AAS's Louis I. Dublin Award for outstanding service and contributions to the field of suicide prevention. In 2009 and in 2011 Dr. Berman was twice elected President of the International Association for Suicide Prevention (IASP), after previously serving as 1st Vice President and Treasurer of IASP.  He served as the President of Section (VII) of Behavioral Emergencies of the Division of Clinical Psychology (Div. 12) of the American Psychological Association in 2004.
He has published more than 175 professional articles and book chapters.  From 1990-1994, he served as Case Consultation Editor of the journal Suicide and Life Threatening Behavior (SLTB).  In 1994 Dr. Berman was elected Editor-in-Chief of SLTB; however, he resigned this position when he was chosen as the AAS's Executive Director.  He remains a consulting editor to SLTB and three other journals. He is a Fellow of the International Academy of Suicide Research.  Dr. Berman has edited (1) Suicide Prevention: Case Consultations (1990), N.Y.: Springer; is the senior author of (2) Adolescent Suicide: Assessment and Intervention (1991), Wash., D.C.: American Psychological Association (David Jobes, co-author). [The  2nd Edition of Adolescent Suicide: Assessment and Intervention was published by the APA in 2005 with Morton Silverman as a 3rd author]; and co-edited: (3) Assessment and Prediction of Suicide (1992, NY: Guilford Press) (with Drs. Ronald Maris, John Maltsberger, and Robert Yufit),  (4) Suicidology: Essays in Honor of Edwin S. Shneidman (1995: with Drs. Antoon Leenaars, Pamela Cantor, Ron Maris, and Robert Litman), (5) Risk Management with Suicidal Patients (1998: NY: Guilford; with Drs. Bruce Bongar, Ron Maris, Morton Silverman, Erik Harris, and Wendy Packman); is co-author of (6) The Comprehensive Textbook of Suicidology and Suicide Prevention (2000: NY: Guilford; with Drs. Ronald Maris and Morton Silverman. His latest book, co-edited with Maurizio Pompili, MD, (7) Medical Conditions Associated with Suicide Risk, was published in April, 2011.
Dr. Berman served on the HHS Federal Task Force on Youth Suicide Prevention (1985-6), was an initiating member of the Centers for Disease Control sponsored "Working Group" on the operational criteria for the classification of suicide and the NIMH sponsored conference on developing a nomenclature for suicide morbidity.  Further, he served on three Task Forces of the National Action Alliance for Suicide Prevention and was appointed to and served on the Action Alliance's Executive Committee in 2013. He currently serves as co-chair of the Fatality Review Committee of the MD Governor's Commission on Suicide Prevention.
He frequently is asked to serve as an expert witness in legal cases involving suicide malpractice and wrongful death and has a national reputation as a teacher and professional workshop leader on topics of clinical suicidology and suicide prevention.  In 2009, he was Board Certified in Forensic Suicidology by the AAS.  In 2009-2010 Dr. Berman was one of only seven civilians to receive a Congressional appointment to the Department of Defense Task Force on the Prevention of Suicide among Members of the Armed Forces.
Dr. Berman appears frequently on both national and local media.  He has appeared on The Today Show (2x), Good Morning America, Hour Magazine, and The Larry King Show. He has testified on Capitol Hill three times: on suicide among Vietnam combat veterans, on teenage suicide, and on the U.S.S. Iowa explosion.  In 1996 he was appointed Consultant to the Office of Independent Counsel to investigate and finalize their report on the 1993 death of White House Counsel Vincent Foster, Jr.  
Activity planners
Rebecca Gleason, RN, CCM
Activity Manager
Optum Health Education
Janine Laskowski Gallinar, LCSW
Training Facilitation & Delivery Manager
AbleTo
Regina Owens
Director, Operations Learning & Development
AbleTo
Disclosures of relevant financial relationships
In accordance with the Accreditation Council for Continuing Medical Education's (ACCME) Standards for Integrity and Independence in Accredited Continuing Education, Optum Health Education (OHE) requires all those in control of educational content to disclose their financial relationships with ineligible companies within the prior 24 months. Ineligible companies are defined by the ACCME as companies whose primary business is producing, marketing, selling, re-selling, or distributing health care products used by or on patients. Individuals must disclose all financial relationships, regardless of the amount, with ineligible companies and regardless of their view of the relevance of the relationship to the education. OHE ensures that the content is independent of commercial bias.
Dr. Berman is on the advisory board of Modern Health. 
The activity planners have no financial relationships to disclose.
Method for calculating CE credit
CE credit was calculated by the complexity of content.
Accreditation statement


In support of improving patient care, this activity has been planned and implemented by Optum Health Education and AbleTo. Optum Health Education is jointly accredited by the Accreditation Council for Continuing Medical Education (ACCME), the Accreditation Council for Pharmacy Education (ACPE) and the American Nurses Credentialing Center (ANCC), to provide continuing education for the health care team.
Credit designation statements
Nurses
The participant will be awarded up to 1.00 contact hour(s) of credit for attendance and completion of supplemental materials.
Nurse practitioners
The American Academy of Nurse Practitioners Certification Program (AANPCP) accepts credit from organizations accredited by the ACCME and ANCC.
Psychologists
Optum Health Education is approved by the American Psychological Association (APA) to offer continuing education for psychologists. Optum Health Education maintains responsibility for this program. 1.00 CE hour.
Social workers


As a Jointly Accredited Organization, Optum Health Education is approved to offer social work continuing education by the Association of Social Work Boards (ASWB) Approved Continuing Education (ACE) program. Organizations, not individual courses, are approved under this program. State and provincial regulatory boards have the final authority to determine whether an individual course may be accepted for continuing education credit. Optum Health Education maintains responsibility for this course. Social workers completing this course receive 1.00 enduring continuing education credits.
Counselors and/or marriage and family therapists
CA: The Board of Behavioral Sciences has deferred CE course approvals to APA and ASWB for its licensees. See those approvals under Psychologists and Social Workers.
Other States: If your state is not specifically listed, nearly all state Counselor and MFT boards accept either APA or ASWB approval, or are reciprocal with other state licensing board approvals. Check with your board to be sure.
Attendance
A certificate of attendance will be provided to learners upon completion of activity requirements, enabling participants to register with licensing boards or associations that have not been preapproved for credits. To apply for credit types not listed above, participants should use the procedure established by the specific organization from which they wish to obtain credit.
Available Credit
1.00

ANCC - Nurses

1.00

APA - Psychologists

1.00

Attendance - General Attendance

1.00

ASWB - Social Workers
Please log in to register.
You must be logged into your account to participate in this activity. Get started by clicking "Register/Continue" and following the instructions. At the end of the activity, you will be able to view, save or print your certificate of participation. A complete listing of all of your activities can be found under "My Account," "My Activities."