Registration Now Open!
Understanding and Preventing Burnout: Improving Health Care Outcomes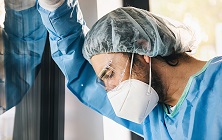 Please join us as Dr. Colin West of the Mayo Clinic discusses the contributing factors to burnout, its impact on the health and well-being of health care professionals and their patients, interventions to decrease overall stress, and how burnout can influence patient care and health care outcomes.
This live webcast will be held on Tuesday, March 16, 2021, from 1–2 p.m. EDT.
Click here to register for the live webcast.
UPCOMING LIVE CONFERENCES
May 5–6, 2021
Essentials of Oncology, Solid Organ and Blood/Marrow Transplant Management for the Health Care Team 
Virtual Experience

To see​​​​​​​ a listing of past conference recordings click here. ​​​​​​​
Finding Activities to meet your needs

Search for education on a specific area—such as covid-19, behavioral health or transplantation—by hovering over the Activities tab at the top of this page.
Or search by credit type by clicking on the Activities tab and using the sort check boxes.
Click here for detailed instructions on how to take on-demand activities.
MY TRANSCRIPT
my pending activities