Fostering engaged, lifelong learners
Optum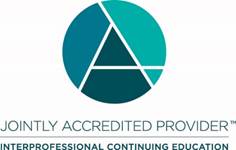 Health Education (OHE) is a jointly accredited education company with over 30-years of experience as a full-service provider of interprofessional continuing education (IPCE).
OHE is simultaneously accredited to provide medical, nursing, optometry, pharmacy, psychology, social work, dental and dietitian continuing education activities by the Accreditation Council for Continuing Medical Education (ACCME), the American Nurses Credentialing Center (ANCC), the Accreditation Council for Pharmacy Education (ACPE), The Council on Optometric Practitioner Education (COPE), the American Psychological Association (APA),  the Approved Continuing Education (ACE) program, American Dental Association Continuing Education Recognition Program (ADA CERP) and Commission on Dietetic Registration (CDR).  
OHE is committed to:
Providing IPCE that improves patient outcomes and positively impacts the delivery of health care;
Advancing the skills, strategy and/or performance relevant to the learners' clinical practice and/or their role within the health care team; and
Fostering the continuing professional development of engaged, lifelong learners.
OHE develops IPCE that is independent, free from commercial bias, based on valid content and effective in improving the quality and safety of care delivered by health care teams. To achieve this goal, OHE combines adult learning principles with professional competencies outlined by national health professional organizations and health professional educational associations.
OHE's IPCE planning process follows the strict guidelines set for by the Joint Accreditation Committee and includes identifying areas of need (professional practice gaps), identifying specific learning objectives related to those needs and recruiting subject matter experts to participate as faculty in developing and delivering educational content. As leaders in their fields, OHE faculty are well situated to impart their knowledge and share their experiences related to the attributes that comprise a successful, collaborative and evolving health care team. 
OHE is uniquely positioned to deliver impactful ICPE for the fast-paced health care team.