Submitted by LuAnne Ronning on
| | |
| --- | --- |
| About this conference | |
Mark your calendar and don't miss the 10th Annual Medical Director Forum! This accredited medical education conference has been developed to provide cutting-edge clinical updates to individuals responsible for managing large patient populations. Presenting faculty — who are comprised of nationally recognized practitioners and thought leaders — will:
Challenge you with ethical matters, including issues related to the first human trials and decisions regarding coverage for genetic screening;
Inform you on the steps the FDA and government are taking to combat opioid addiction that has caused opioid-related deaths to triple since 2000;
Enlighten you on the role of telemedicine and the impact of this innovation in health care delivery; and
Educate you on relevant research, evidence-based treatment guidelines, and innovations for optimizing patient care.
This year's Keynote Speaker, Dr. David Katz, will examine what the impact of diet and lifestyle COULD be on the human condition if knowledge were power. His presentation "Lifestyle Is the Medicine; What's the Spoon?" will make the case that lifestyle is the best, most readily available medicine, and culture could be the spoon that helps it go down.
Intended audience
This conference has been designed to meet the educational needs of medical directors and other health care professionals (HCPs) that manage large patient populations and/or their benefits worldwide. This includes:
Medical Directors/Physicians/PAs
Pharmacists/Pharmacy Technicians
Nurses/Nurse Practitioners
Case Managers
Need CME credits? Earn up to 6.5 continuing education credits at this year's forum. >Learn more
** Refer to the Continuing Education page for a listing of certifications that have been applied for and/or approved for this conference.
Conference educational objectives
After completion of this activity, the participant should be able to:
Examine the potential impact of lifestyle behaviors on the growing epidemic of chronic disease.
Identify the root causes of obesity and chronic disease, and note specific programs that show promise in reversing such trends.
State the potential impact of telemedicine on improving health care quality, access, equity and affordability, as well as current challenges being faced with these applications.
Recognize the ethical issues related to the potential clinical introduction of novel reproductive technologies — including when is it acceptable to even consider the use of such technologies, for which patients and for which indications.
List the steps being taken by the administration to escalate the fight against the prescription opioid abuse epidemic, along with the latest in opioid management, including strategies to reduce prescription opioid overdose risk and the newest methodologies for opioid delivery.
Discuss the challenges faced by providers and patients when dealing with pain, specifically related to chronic back pain and migraine management.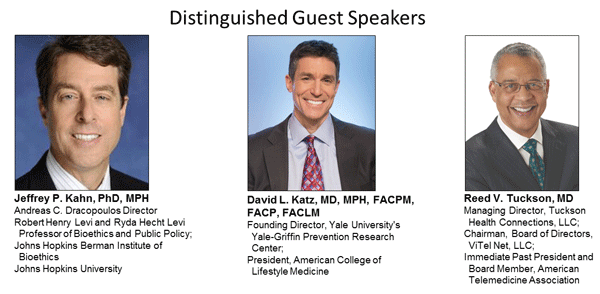 Group visibility:
Public - accessible to all site users