Meeting Location and Accommodations
Hyatt Regency Minneapolis
1300 Nicollet Mall
Minneapolis, MN 55403
(612) 370-1234
To Reserve Your Room
Hotel Discounted Room Rate: Rooms are available at a special conference rate of $182/night for single and double occupancy.

Hotel Reservation Deadline: Extended to Thursday, Sept. 5, 2013, or when rooms sell out, whichever comes first. The Hyatt is currently SOLD OUT for general reservations over the conference dates. Therefore, you are strongly encouraged to make your reservation before Sept. 5 to be sure you secure one of the remaining rooms held in our room block. Reservations received after Sept. 5, or after the room block is sold out, will be accepted on a space-available basis at the prevailing room rate.

Hotel Reservation Process: The preferred reservation method is online. A dedicated reservation Web site is available for this conference to allow you to make, modify, or cancel your hotel reservation online, as well as to take advantage of other services offered by the hotel.
Online Reservations: Hyatt Regency Minneapolis Group Reservations

Toll-Free Reservations: (888) 421-1442
Mention "Optum" to ensure access to our special group rate.
* UnitedHealth Group Employees: Please follow the hotel reservation instructions listed above to receive the group discounted rate. Do not use Concur or American Express Business Travel for hotel reservations for this conference.
Hyatt Regency Minneapolis Information
Experience the newly renovated Hyatt Regency Minneapolis, perfectly situated on Nicollet Mall in downtown Minneapolis. As a result of the recently completed $25 million transformation, guests will enjoy a striking new lobby, opulent new guestrooms and suites and a brand new restaurant and market place. A recent recipient of AAA's Four Diamond Award, the redesigned hotel pays tribute to the unique culture of Minnesota, with sleek mid-century Scandinavian décor highlighted by a spacious lobby, featuring an expansive stone fireplace framed by rustic wooden logs. The oversized and luxurious guestrooms offer exhilarating views of the skyline while providing modern amenities and plush comfort. The city's newest culinary hotspot, Prairie Kitchen & Bar, specializes in Scandinavian-inspired, locally grown and seasonal cuisine. The hotel's premiere downtown location provides convenient access to an incredible array of Twin Cities attractions, from shopping to sports to theater.

Hotel highlights, including features, guest services, Internet access, map and directions, parking and transportation.
Minneapolis—The City of Lakes
Famous for its beautiful chain of lakes, Minneapolis also boasts a thriving downtown with world-class cuisine, Broadway-caliber theaters and top-notch shopping (apparel is tax free!). Named one of the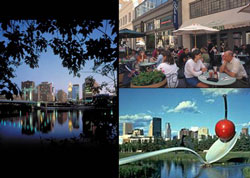 country's most walkable cities in the country, Minneapolis is easy to explore and enjoy, and September is a beautiful time of year in which to visit.

Step outside the hotel onto Nicollet Mall—a pedestrian avenue spreading 11 blocks through the heart of downtown Minneapolis. As you stroll down the Mall, you will find sidewalk cafés, top-name shops and shopping malls, and some of Minneapolis' premier restaurants.

Explore the Riverfront District, where historic buildings, scenic parks, cultural venues, dining and shopping line the banks of the Mississippi River. Later on, experience a show in the Hennepin Theater District, or enjoy Downtown's nightlife in the hip Warehouse District.

Minneapolis is an unexpected treasure that offers the sophistication of a major urban city combined with a lush, natural environment.
Web Sites of Interest
Hyatt Regency Minneapolis
Mall of America
Explore Minnesota
Minneapolis Tourist Information
Program Materials
Program materials will be in electronic format. Approximately one week prior to the conference, you will receive an e-mail with instructions on how to access the program materials in advance. Please look for the e-mail announcement on or around Sept. 18 for more detailed instructions.
Conference Attire
Business attire is suggested for this conference. Although every effort is made to maintain a comfortable learning environment, meeting room temperatures can fluctuate greatly and may be difficult to control. The temperature is often cool in the meeting room. Therefore, bringing along a jacket or sweater is recommended.
Weather
The average high temperature in Minneapolis late September is a comfortable 68°.