Meeting Location and Accommodations
Hyatt Regency Minneapolis
1300 Nicollet Mall
Minneapolis, MN 55403
(612) 370-1234
To Reserve Your Room
Hotel reservations: American Express Business Travel is coordinating hotel reservations for this conference. To receive the conference discounted room rate, contact the Meeting Desk at (800) 720-7893 by Sept. 7 and reference Meeting Number UHG04136. Advise the agent if you are not a UnitedHealth Group employee.

UnitedHealth Group Employees—Book your hotel AND airline reservations by calling the American Express Business Travel Meeting Desk. Do not use Concur Travel (formerly Cliqbook).

Rate: $175 single/double. (Rates are per room per night and subject to prevailing state and local taxes.)

Hotel room release date: The conference special rate is available until Wed., Sept. 7, 2011, or until rooms sell out, whichever comes first. We encourage participants to reserve their rooms as early as possible since rooms within the hotel may sell out before this date. Reservations received after Sept. 7, or after the room block is sold out, will be accepted on a space-available basis at the prevailing room rate.
Hyatt Regency Minneapolis Information
The Hyatt Regency is one of the most ideally situated hotels in downtown Minneapolis, just steps from shopping, dining and entertainment. Each guestroom offers an oversized work desk, deluxe bath with granite floor and vanity, Hyatt custom Grand Bed, high-speed Internet access, and daily newspaper. During your stay, use the fully updated fitness facility at the StayFit™ Athletic Club; dine at top-rated Oceanaire Seafood Room; or visit Spike's Sports Bar and Grille for evening entertainment.

Directions, parking and ground transportation: Click here for directions, parking and ground transportation information.
Minneapolis—The City of Lakes
Famous for its beautiful chain of lakes, Minneapolis also boasts a thriving downtown with world-class cuisine, Broadway-caliber theaters and top-notch shopping (apparel is tax free!). Named one of the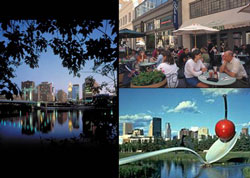 country's most walkable cities in the country, Minneapolis is easy to explore and enjoy, and October is a beautiful time of year in which to visit.

Step outside the hotel onto Nicollet Mall—a pedestrian avenue spreading 11 blocks through the heart of downtown Minneapolis. As you stroll down the Mall, you will find sidewalk cafés, top-name shops and shopping malls, and some of Minneapolis' premier restaurants.

Explore the Riverfront District, where historic buildings, scenic parks, cultural venues, dining and shopping line the banks of the Mississippi River. Later on, experience a Broadway show in the Hennepin Theater District, or enjoy Downtown's nightlife in the hip Warehouse District.

Minneapolis is an unexpected treasure that offers the sophistication of a major urban city combined with a lush, natural environment.
Web Sites of Interest
Hyatt Regency Minneapolis
Mall of America
Explore Minnesota
Minneapolis Tourist Information
Program Materials
Program materials will be in electronic format. Approximately one week prior to the conference, you will receive an e-mail with instructions on how to access the program materials. In addition, you will receive a CD-ROM at the conference that contains the program materials. Please look for the e-mail announcement the week of Sept. 26 for more detailed instructions.
Conference Attire
Attire for the conference is business. Although every effort is made to maintain a comfortable learning environment, meeting room temperatures can fluctuate greatly and may be difficult to control. The temperature is often cool in the meeting room. Therefore, bringing along a jacket or sweater is recommended.
Weather
The average high temperature in Minneapolis early October is a comfortable 65°.